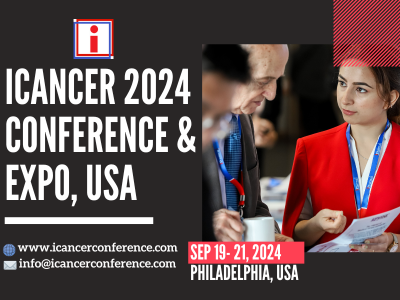 With the enthusiastic support of our Organizing Committee, we feel delighted to invite you to the 4th International Cancer Conference and Expo (iCancer 2024) during September 19- 21, 2024 in Philadelphia, USA. iCancer 2024 is being held as a continuum of our previous successful conferences in Philadelphia, Baltimore, and London. The theme for iCancer 2024 is "Innovations in Cancer Research".
This conference provides a forum for the exchange of ideas and authoritative views by eminent personalities in the field of Cancer Science, Cancer Drug Development, Cancer Nanotechnology, Clinical Trials, Cancer imaging, Medical radiation, Cancer Vaccines, Precision Cancer Medicine, Cancer Epidemiology, Cancer Therapy and Treatments, Cancer Immunology and Immunotherapy, Oncology Nursing and Care, etc.
iCancer will witness participants like research professionals, academicians, doctors, study sponsors, representation from Bio-Engineering, Diagnosis Tools, Medical Devices, and Pharmaceutical industries around the globe. iCancer 2024 will have a multidisciplinary focus and aim to give participants a unique opportunity to exchange knowledge and ideas with members of the community working to beat cancer.
iCancer 2024, USA offers unparalleled research, business opportunities, and access to new markets in the Cancer, Medicine, and Health Care industry. Be on the cutting edge of new and often yet-unreleased information and discover an area that piques your interest.
Join the leading experts as they debate and discuss the latest diagnostic, therapeutic and supportive care strategies for patients with cancer. REGISTER today as an early bird to give your career and business access to new opportunities.
For speaking opportunities and group registration discounts contact kathy@icancerconference.com. For any other information email us at info@icancerconference.com.